In the photo the two baby elephants appear to be fighting each other, but they are actually showing their affection for each other inside the Prague Zoo.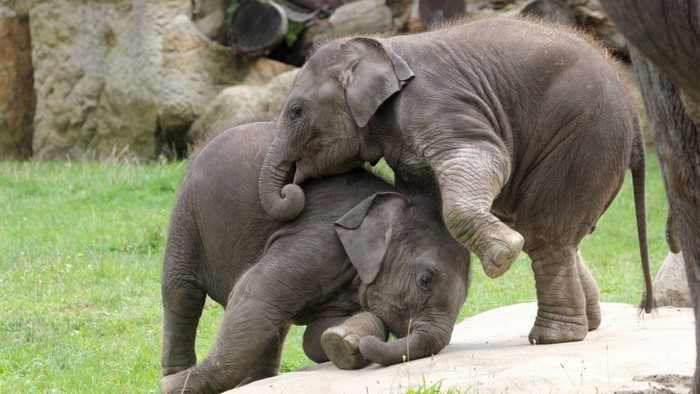 Two elephant sisters playing in the Prague Zoo
Czech photographer Lucie tpniková captured this interesting moment of two elephants inside the Prague Zoo.
The photo shows a small elephant named Amalee climbing on the back of her sister Lakuna very affectionately. Lucie tpniková shared: "They love to play together. Amalee is very happy to be able to climb on her sister's back."
Lucie tpniková said both elephants weighed 226 kg, although Amalee was larger at birth. The elephant sisters became famous on social media after a photo of them "struggling" with each other at a zoo in the Czech Republic went viral.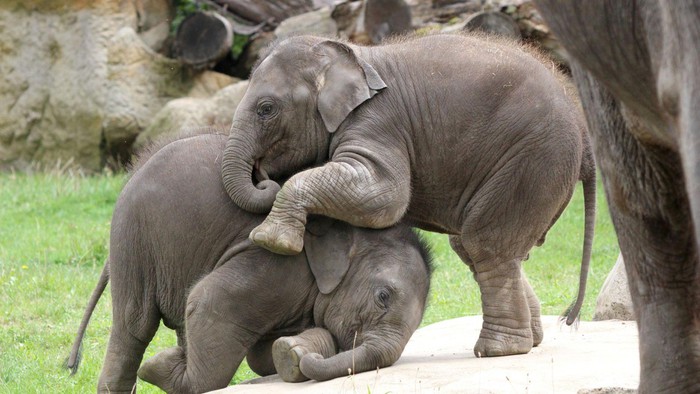 Amalee elephant is climbing on her sister Lakuna's back very affectionately
Prague Zoo was rated the seventh best zoo in the world by Forbes Travel Guide in 2007, and was rated the fifth best in the world by TripAdvisor. The zoo enjoys some world-class success in the areas of animal husbandry and scientific research. Notably, in 2001, this was the world's first artificial breeding ground for the Przewalski horse. In 2012, the zoo saw the highest number of cubs, namely 1,557 cubs from 211 species, including the first breeding of the red panda.
In particular, the Prague Zoo is home to the Elephant Valley complex, dubbed the "biggest elephant exhibition" in the zoo's history. It is home to eight Indian elephants, including the first to be born in the Czech Republic.
According to the World Wildlife Fund, the Indian elephant is one of the largest land animals on Earth. They usually spend more than 19 hours a day foraging. There are currently less than 25,000 Indian elephants in the wild, which are classified as endangered.
The Indian elephant is one of three subspecies of the Asian elephant, which is smaller than the African elephant. This Asian elephant is threatened by habitat loss and degradation. The adult Indian elephant is about 3.43 meters tall.