Erling Haaland is a cult name that makes Europe hot, and promises to create a bloody competition this summer. To get the results today, the young Norwegian striker had to work hard, practice, and follow the strict diet of Cristiano Ronaldo.
Haaland's first teacher – the young striker who is making the football village seething – will return to where it all started. He smiled at the memories, then uttered a four-word phrase that not only spiced up the conversation but also showed why Erling Haaland is becoming the continent's most sought-after name.
Alf-Ingve Berntsen, a hugely respected figure at Norwegian club FK Bryne, said of Haaland: "He was special from day one. Erling is part of my heart and it's exciting to talk about. him. Erling continued to score."
Yes, Haaland continued to score. Haaland's rise to prominence is like a bursting star, and he will travel with Dortmund to Manchester on Tuesday night, determined to blow City out of the Champions League with boots that appear to be filled with dynamite. 
As for Man City, they will closely monitor Haaland's performance to see if the 20-year-old striker is really a worthy successor to the shirt left by Sergio Aguero. Not only the Blue Man, a series of other famous teams including Barcelona, ​​Real Madrid or Chelsea will also turn their eyes to Etihad to "monitor" the hottest name in Europe to play. 
But how did Haaland's journey begin in a quiet town in the southwest of Norway? No one knows that story better than Berntsen, who has devoted the past 30 years to developing young players.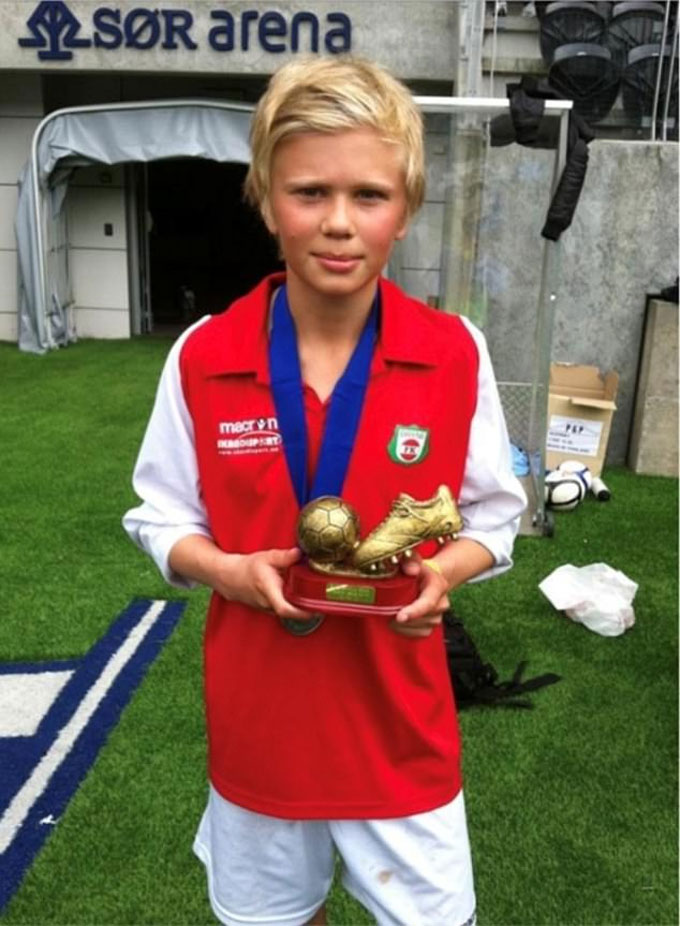 Haaland was an assassin as a child
"The first time I met Erling, he was 6 years old. He scored 2 goals, we played in the indoor ball court. You can see Erling's movement and his skills with the ball are of a very high standard. I often find such players. 
However, what is different with Erling is that he is constantly scoring. In Norway, we don't have an academy. Most of the teams in Norway, aside from the big ones, are at the civilian level. Parents work as coaches and no one gets paid. We have good, reliable people around the team.
With Erling, he excelled at playing with boys his age. From the age of 8 he started training with us once a week, playing against 9 year old boys. There are 40 players playing together, sticking together until the age of 15.
When Erling was 12 years old, he was chosen to represent the region. He continued to score. We thought at the time that he was a very good guy technically, tactically and mentally, but a bit lacking physically. We know Erling can become strong and agile thanks to genetics from his father, mother and brother. One thing is for sure, this is something special. Erling is big and strong, but unlike usual, he also has intelligence," Berntsen shared.
Haaland doesn't drink, says no to nightclubs. The Norwegian striker changed his diet while playing for RB Salzburg by eating a lot of fish because he knows this is what Cristiano Ronaldo has done to keep himself in perfect shape to be able to maintain his health. long-term peak career.
From early on, Haaland aspired to be the best. At first, Berntsen wondered if playing matches with bigger boys would overwhelm Haaland, but it turned out perfectly.
"The interesting thing is that when I watch Erling playing at Dortmund now, I've played clips of him when he was 11, 12 years old. It's pretty much the same. Usually, when boys meet players of the same quality. In size and age, they'll break apart, grow together, but Erling just keeps going, reaching another level in a wonderful way.
You can see it in his eyes. He doesn't like to score if the team loses. He wants to win, that's a very important point. I like that in Haaland. This was shown in training sessions and matches when he was a kid. 
We taught the players to win. We want them to fight to win. They have to learn how to behave, even when they lose. Then you see Erling throw his jersey, get mad when he loses, but what I like is the next day, you see him trying even harder.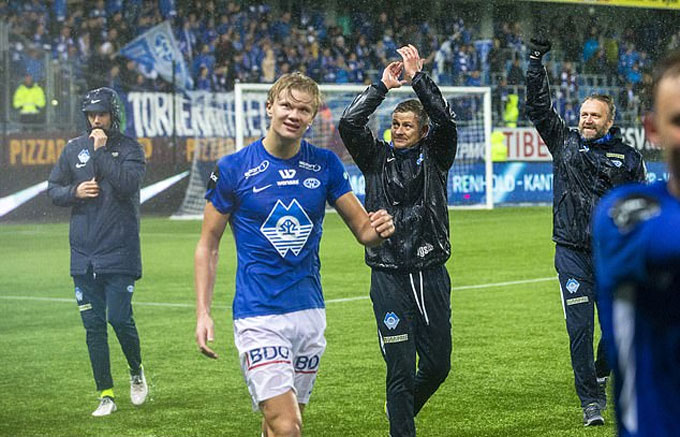 Haaland when he was side by side with Solskjaer at Molde club
Everything pays off. Erling's left leg is like a cannon. He's strong, fast and can run past the opponent's defence. His career path is so cleverly outlined, every step has a reason," continued Berntsen.
In 2017, Haaland left Bryne club to move to Molde under Ole Gunnar Solskjaer – who currently leads Man United. Everton were in fact keen to sign Haaland and invited the striker to a Europa League game against Atalanta in November of that year but the Toffees never discussed the transfer fee.
Upon leaving Molde, Haaland would have joined Juventus but ended up choosing RB Salzburg, where sporting director Christoph Freund has watched Haaland since he scored four goals in 21 minutes against SK Brann in 2018.
"After that, everything was great. Erling was doing great, but people were asking me, 'What happens when Erling has bad periods.' Let me tell you. He's been through it. Through the bad times in Molde and Salzburg, Erling showed a great ability to fight even stronger.
There will always be difficulties when you have to move to another country. Erling arrived in Austria at the age of 19 and did not play at first. At times like that, his father and the teammates around him were all very good to him. They give him focus, tell him to be patient," added Berntsen.
Looking at the current Haaland, whatever happens next, whether the 20-year-old striker as announced by sporting director Michael Zorc on Friday, or moves on try in Spain or England, this is still a young man that will be talked about for many years to come.
"The first season in the Champions League, Erling scored 10 goals. The first season in the Bundesliga, he scored 14 goals. Of the 24 goals scored, 19 goals came from the first touch. That shows that in addition to outperforming the opponent, Erling always knows how to choose the right position.
We are proud of him. I'm not proud of Erling because of his scoring ability but his manners. Erling gets no special treatment here. He did it because he wanted to. That's why Erling is a special boy," Berntsen closed.
This season, Haaland continues to explode with 33 goals and 8 assists after 31 matches for Dortmund in all competitions. Recently, his father and his agent, "super agent" Mino Raiola, went  to have the first negotiations. The 2021 summer market promises to be extremely stressful with the focus on Haaland's future.