June 24 is Lionel Messi's 36th birthday. Experiencing many ups and downs, the Argentine superstar collects all the titles in his life, from club to national team. Here are 36 things you may not know about Messi on his birthday.
1. Messi has scored 672 goals for Barca, more than anyone has ever scored for a club. The previous record was held by Pele, when the late legend scored 643 goals for Brazilian team Santos between 1956 and 1974.
2. Messi has scored 807 career goals so far (672 for Barca, 32 for PSG and 103 for Argentina). Score by body part is left foot (676 goals), right foot (103), head (26), chest (1) and hand (1). His "Hand of God" goal was against Espanyol in June 2007.
3. Messi scored 91 goals for club and country in 2012. This is the most goals scored by a top player in a calendar year, surpassing Gerd Muller's 85 in 1972.
4. Messi has scored more goals than anyone else in history in Europe's top 5 leagues. His goal for PSG against Strasbourg last month was his 496th career goal, surpassing Cristiano Ronaldo's 495.
5. Messi has won the Ballon d'Or 7 times, 2 more times than any other player. He was also voted the best player in the world in 2009, 2010, 2011, 2012, 2015, 2019 and 2021.
6. Talking about the World Cup, Messi is the only player to win the Golden Ball twice (award for the best player in the tournament), in 2014 and 2022.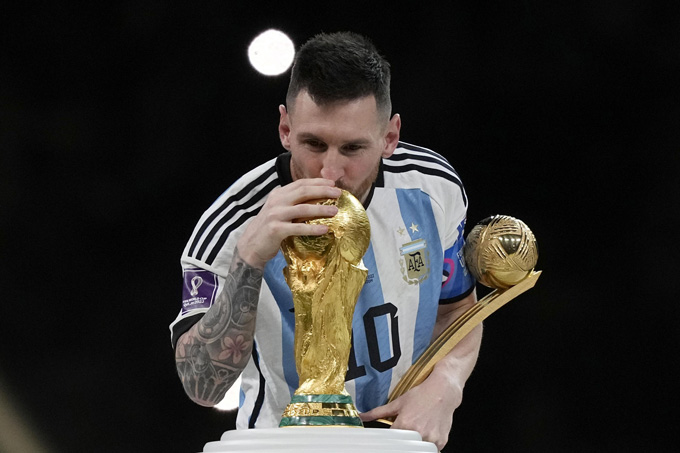 Messi has won the World Cup Golden Ball twice
7. Messi has 6 times scored 50 or more goals in a season for his club. Messi's most total goals are 73, scored for Barca in the 2011/12 season.
8. Messi has scored more goals for Barca (672) than George Bush defeated Al Gore in Florida in the 2000 US Presidential election (537).
9. Messi came from his hometown of Argentina to Barcelona to join La Masia academy at the age of 13. He made his first team debut in 2004, winning 35 titles before leaving in 2021.
10. Messi has scored 103 goals for Argentina, becoming the third player to reach more than 100 goals at national level after Ronaldo of Portugal (123) and Ali Daei of Iran (109).
11. At the 2022 World Cup, Messi has scored in the group stage, round of 1/8, quarter-finals, semi-finals and final to become the first player since the tournament adopted the 1/8 round (1986). every round in a World Cup.
12. Messi has scored 8 hat-tricks in the Champions League, more than many other players combined, such as Raul, Thierry Henry, Wayne Rooney, Harry Kane, Mohamed Salah, Zlatan Ibrahimovic, Ronaldo Nazario…
Messi has scored 8 hat-tricks in the Champions League
13. At the age of 10, Messi was diagnosed with a growth hormone deficiency, raising suspicions that he could not become a football player. However, he was successfully treated and reached a height of 1m7.
14. That height makes Messi 5 cm shorter than the average American man, and nearly 60 cm shorter than former basketball player Manute Bol.
15. Messi is one of the few players to win the "treble" twice. He won La Liga, the Copa del Rey and the Champions League in the 2008/09 season with Barca. Then, Messi repeated that in the 2014/15 season.
16. Messi won the Olympic Gold Medal, which took place at the 2008 Beijing Olympics.
17. In total, Messi has scored 57 hat-tricks in his career, 48 for Barcelona and 9 for Argentina. The first time came in the match against Real Madrid in March 2007.
18. Messi's goals account for 7.2% of all goals scored in Barca's entire history (672 out of 9,322). The club has existed for 124 years and Messi has only played 17 of them.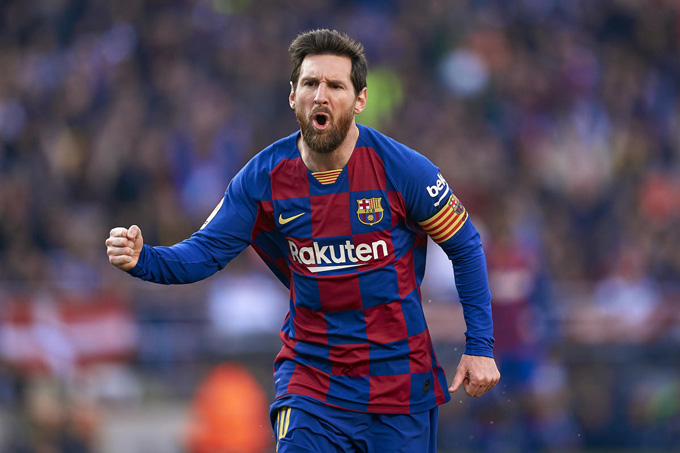 Messi's goals account for 7.2 of Barca's total goals in history
19. Despite scoring 807 goals in his career, Messi has never scored in the first minute of a game.
20. Messi was sent off on his debut for Argentina in August 2005 at the age of 18. In total, he was sent off 3 times in his career (1 time at Barca and 2 times in Argentina).
21. During his club career, Messi has won 38 trophies (35 at Barca and 3 at PSG). On average, every 22 appearances he collects a title.
22. The most goals Messi has scored in a match is 5. He did it twice, for Barca against Leverkusen in the Champions League in 2012 and for Argentina against Estonia in a friendly in 2022.
23. The victory over France in last year's final was Messi's 26th World Cup appearance, surpassing Lothar Matthaus's record of 25 for West Germany and Germany.
24. Messi has participated in 5 World Cup finals, a record equal to the Mexican trio Antonio Carbajal, Rafael Marquez and Andres Guardado, Matthaus and Cristiano Ronaldo.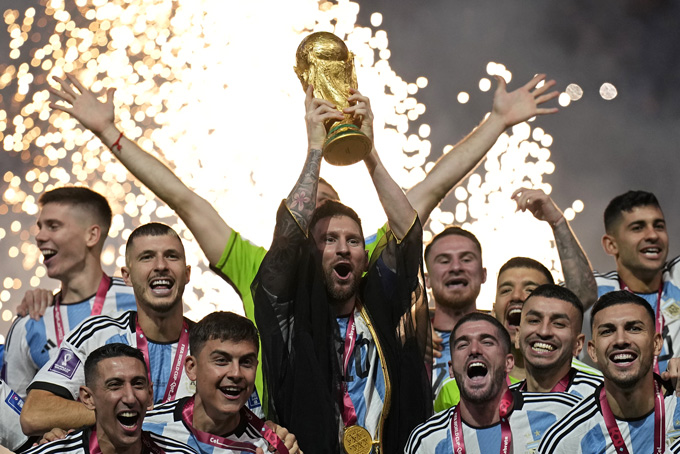 Messi has participated in 5 World Cup finals
25. Messi's first game for Inter Miami will be his 14th game on American soil. The previous 13 times were all in Argentina's colors, the most famous being the 2016 Copa America final – where Albiceleste ended up against Chile on penalties. Messi also missed 11 meters.
26. Messi has scored against 37 different national teams in his career. The country where he tore the most nets is Bolivia with 8 goals.
27. Messi has played 175 matches for Argentina. This is both a national record and a South American record.
28. The club that Messi has torn the most nets in his career is Sevilla with 38 goals.
29. Messi doesn't always wear the number 10 shirt in Argentina. He used to wear the number 18 and 19. The last time Messi did not wear the number 10 shirt was a friendly match against France in 2009 (wearing the number 18 shirt).
30. Messi has scored 27 goals against English clubs in the Champions League, seven more than any other player. His favorite English club is Arsenal with 9 goals.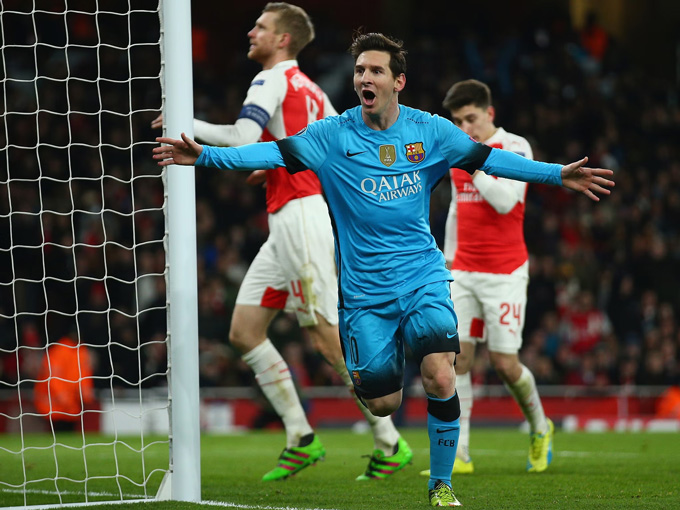 Messi is very charming with the Arsenal net
31. Messi has scored 62 goals from free kicks in his career (50 for Barca, 2 for PSG and 10 for Argentina).
32. No one has played more Copa America matches than Messi (34). This figure is on par with Sergio Livingstone, the Chilean goalkeeper of the 1940s and 1950s.
33. Messi almost scored more goals than the entire Sunderland team in the 2010s.
34. Messi's number of consecutive goals at club level is 10, achieved in the 2012/13 season when he was 25 years old.
35. Messi's longest running game at club level is 12, coming in the 2006/07 season at the age of 19. He ended that forgettable streak with a superb hat-trick against Real Madrid.
36. Messi has the most liked Instagram post ever, with a photo celebrating after winning the 2022 World Cup. This photo has received more than 75.6 million likes so far.