The dogs had been on a walk when they curiously sniffed out the creature but nearly died when they ended up with spikes lodged in their lungs and heart
Attack: The dogs resembled pincushions after they were involved in a brutal brawl with a porcupine (
Image: Mike Gerrard/Gofundme)
The animals had thousands of quills stabbed through their skin in the attack and one was almost killed when several of the spikes pierced its heart and lungs
The dogs, Mahalo, Nstah, and Soljah, were being walked by their owner Dennis Mazur near their home in Saskatchewan, Canada, when they came across the prickly creature hiding in an abandoned barn, it was reported.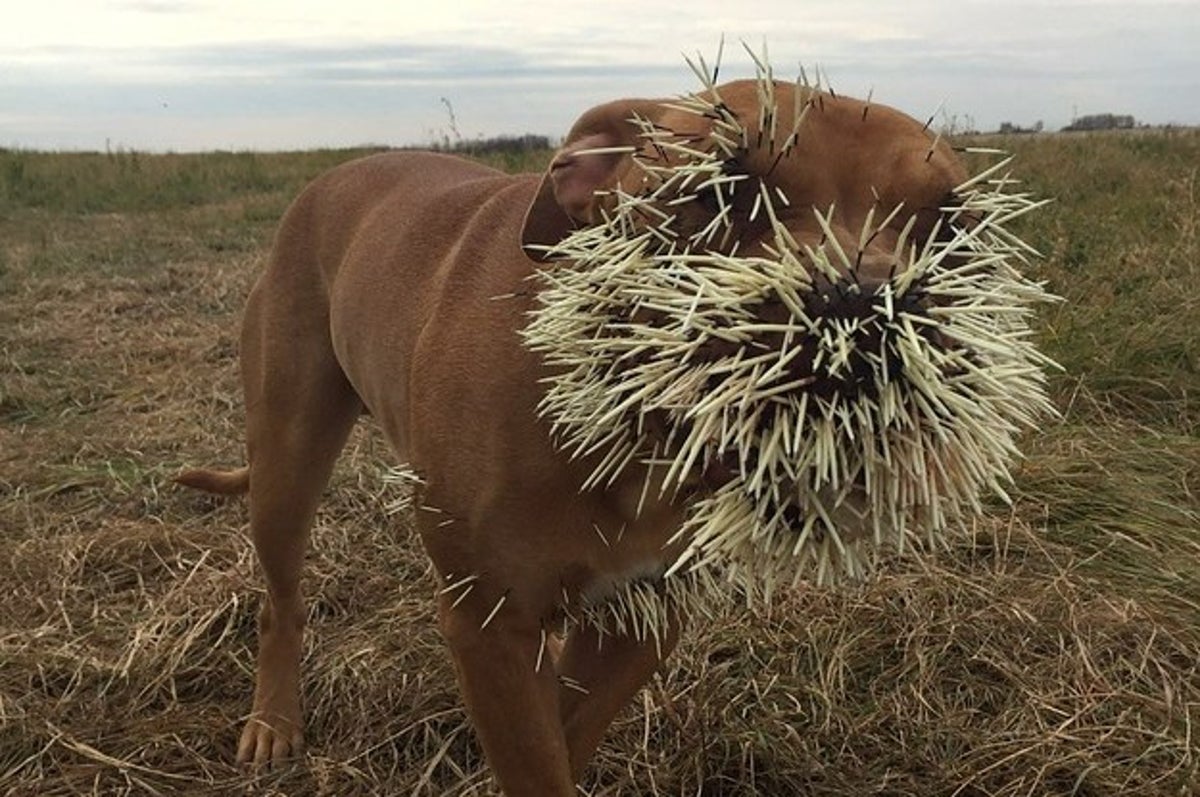 One of the dogs jumped on the creature and was left with quills pierced in its lungs and heart ( 
Image:
Mike Gerrard/Gofundme)
Nine-year-old Soljah gave the porcupine a sniff but ended up in with a few spikes in his chin and let you a yelp, prompting the others to run in and protect him.
Dennis told the Canada Star : "The dogs went into protect-the-older brot her mode, and it went bad."
Mahalo, 19-months-old, jumped right on top of the rodent but almost didn't make it out alive after its quills became lodged in her lungs and one pierced her heart.
The dogs owner didn't think they were going to pull through and vet bills began to mount to $10,000 ( 
Image:
Mike Gerrard/Gofundme)
Nine-month-old Nestah had more than a thousands quills in his face and one is still lodged in his spine.
Although the trio survived the attack, in which the porcupine was killed, Dennis has faced massive pet bills after Mahalo faced major surgery to remove the spokes.
Mike Gerrand was desperate to help out his friend and set up a GoFundMe online campaign to help pay for the $10,000 bill.
One of the dogs had sniffed out the porcupine in an abandoned barn ( 
Image:
Mike Gerrard/Gofundme)
In just a week they've managed to exceed that with donations pouring in from around the world.
The dogs are now expected to make a full recovery but will have to rest for weeks.
Mike told the newspaper: "The doctor said it's a miracle . . . if all things go according to plan they should make a full recovery.
They are now expected to make a full recovery after crowdfunders raised enough money to pay for surgery ( 
Image:
Mike Gerrard/Gofundme)