Despite dozens of scandals in the past, Angelina Jolie has never run out of energy to rise to become a talented star with a compassionate heart.
From father's side, relationship with mother's boyfriend
Jolie hasn't seen her father in years. The two tried to mend their relationship when she appeared in the film Lara Croft: Tomb Raider (2001). In July 2002, Jolie filed an application to change her name to Angelina Jolie and remove her father's surname – Voight.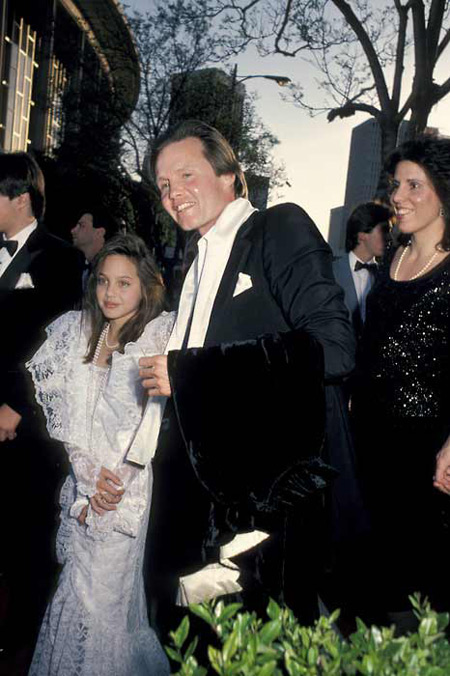 Jolie's childhood years were pampered by her father
Her name was officially recognized on September 12, 2002. In August of that year, Angie's father announced that his daughter was suffering from "serious mental problems". Angie said at the time that she was severing ties with her father: "My father and I have stopped talking. I have nothing to do with him anymore."
However, the most exciting thing is that in February 2010, Jolie announced publicly that her father and son had reconciled when he visited her on the set of 
The Tourist
 in Venice.
Also related to famous parents in showbiz is that Angie had an affair with her mother's boyfriend.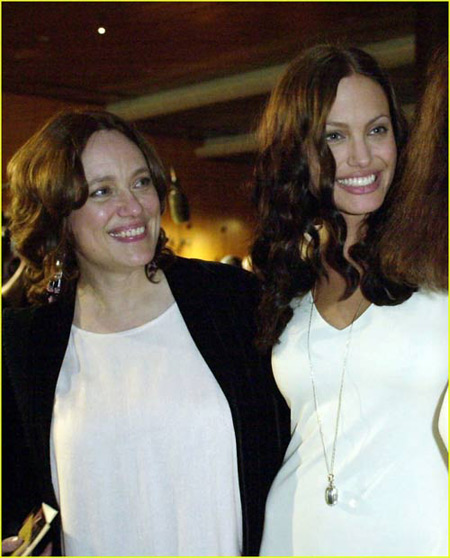 Jolie's mother and daughter
Andrew Morton – the author of many books about the private life of Hollywood stars, revealed that at the age of 16 Angie seduced her mother's boyfriend and the two went to bed together. It happened in 1991 when she and her brother James were living with their mother. After this incident, she moved out of the house and isolated from both her father and mother. Marcheline Bertrand passed away in 2007 and that remains her biggest regret.
Love scandals
On March 28, 1996 Angie married British actor Jonny Lee Miller, her co-star in the movie Hackers (1995). However, in February 1999, the two broke up but still maintained a normal relationship. "I think he is the best husband a girl could ask for. I always love him. We are simply too young," Angie confided.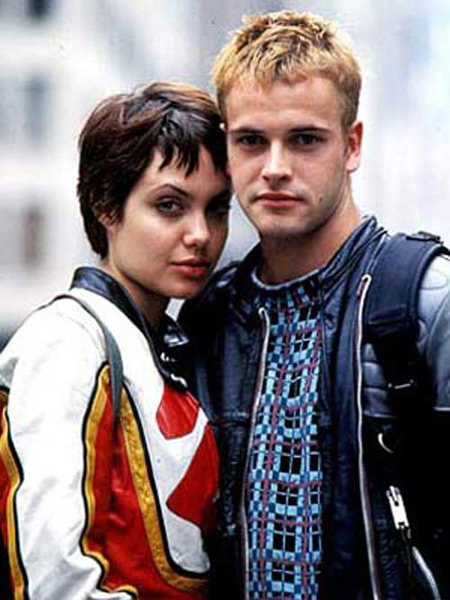 Jolie with her first husband Jonny Lee Miller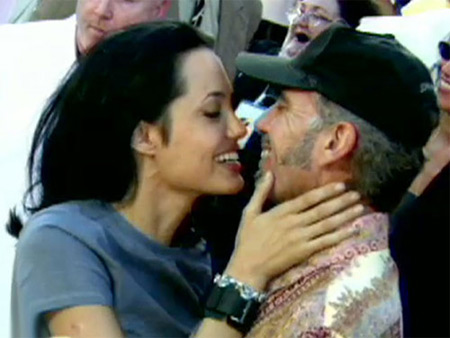 And second husband Billy Bob Thornton
Then Angie met and married Billy Bob Thornton in a surprise wedding on May 5, 2000, but this relationship only lasted until May 2003.
However, Jolie's situation also caused many people to panic when she was accused of having a wild sex life. She still had sex with her husband even after the two broke up. Then she plunges into a love game with Ralph Fiennes, Colin Farell, Mick Jagger, Texas Terri…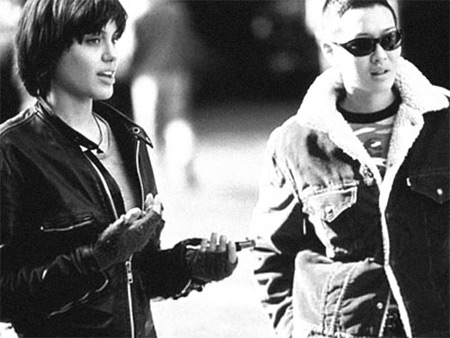 Jolie and partner Jenny Shimizu
The most controversial thing was when Jolie admitted that she was bisexual and had a relationship with her Foxfire (1996) co-star – Jenny Shimizu. "I would have married Jenny if I hadn't married my husband. I fell in love with her from the first moment I saw her.
In 2003 when asked about her bisexuality, Jolie did not hesitate: "Of course. It wouldn't be strange if I fell in love with a girl tomorrow. I feel completely normal if I kiss her. If I really love, I certainly don't hesitate."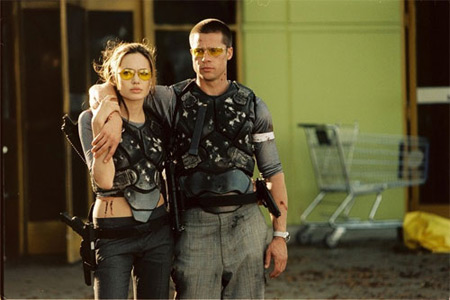 Jolie Pitt trong "Mr. & Mrs. Smith"
Angelina Jolie's love story continues with the famous love triangle in Hollywood. She is accused of being the one to split the marriage between Brad Pitt and Jennifer Aniston. The relationship began when she and Pitt joined Mr. & Mrs. Smith (2005). "Loving a married man reminds me of my father who betrayed his mother. That's something I can hardly forget. I can't look at myself every morning when I do that. I'm not attracted to a man who leaves his wife," Jolie shared.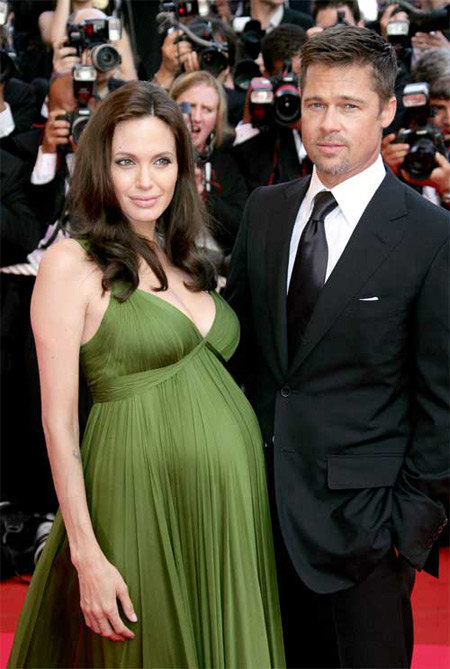 Since Brad and Jen broke up, the couple Brangelina has lived happily for 5 years as a couple.
On January 11, 2006, they went public about their relationship. Together, they take care of 6 children, including 3 biological children. In February 2010, the couple successfully sued News of the World for publishing information about their separation. Although the winning amount was not disclosed, they donated all of it to charity.
The delicious bait of the media
Since her first appearance in the entertainment industry, Jolie has received media attention thanks to the popularity of her father – actor Jon Voight. At the age of 7 she had her first supporting role in Lookin' to Get Out . In 1986 and 1988 she followed her father to appear at the Oscars. However, when she started her business, she was completely independent right from her name.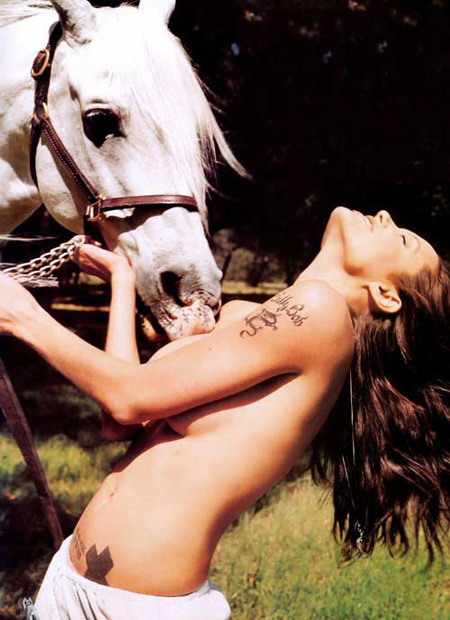 Jolie was never ashamed of her "wild girl" image in the early years of her career. At the age of 14, she left acting class to pursue another dream. This time she also openly lived with her boyfriend but broke up 2 years later. This time she was also seriously addicted and did not hesitate to take nude photos or… wearing a dog leash…
Most recently, this actress was exposed to drug use. Last October, Franklin Meyer – a drug dealer claimed that since 1997 Jolie and he often went back and forth just to supply her with drugs. Jolie used to pay $100 each time to get 1/10 of a gram of heroin. Although the authenticity of this information has not been verified, the possibility of Jolie prolonging her addiction to the late 90s is difficult to avoid.
The Queen of Action Movies and a Goodwill Ambassador
Despite being involved in a series of scandals, Jolie still maintains a great performance in acting. Known for 2001's Secret Tomb, Mr. and Mrs. Smith's 2005, Wanted 2008 Jolie is associated with the nickname Queen of action movies.
In 1999, for her role in Girl, Interrupted, she was honored to receive her first Academy Award in the category of Best Supporting Actress and countless other big and small awards.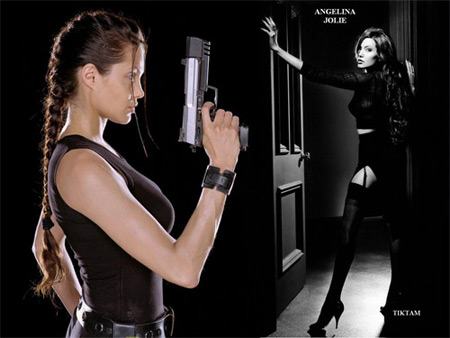 In the role of goodwill ambassador Jolie has also shown great efforts. She and her husband Brad appear everywhere, the most difficult lands to do their charity work. The places that she visits and directly does charity are the furthest, most miserable places in Africa, the Middle East. In 2010, after the catastrophic earthquake in Haiti, Brangelina's family contributed $ 1 million. They also have a charity fund called Jolie-Pitt Foundation that has been operating very effectively since its founding in 2007.
Today Angelina Jolie is famous all over the world. She is always on the list of 100 most influential people in the world, was named the most beautiful woman on the planet, sex symbol and countless other titles.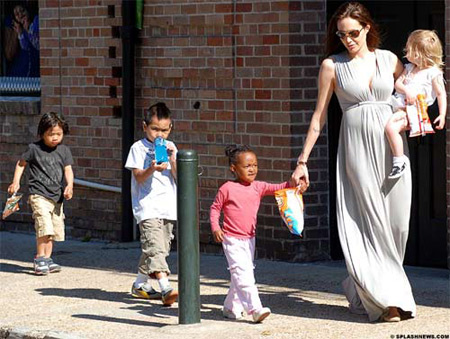 Jolie – a happy mother with 6 children
Despite the dark past with dozens of scandals, Jolie has never lost her energy to rise to become a talented star with a great heart.