From an estimated net worth of about $90 million, Ronaldinho's account is now only $6.59. How did the once-famous star of world football spend the above money?
If he did not work hard in the dark with long legs, Ronaldinho would hardly shine on the pitch with his teammates. Dinho and many Brazilian players have publicly acknowledged the relationship between sex and football before each major tournament.
Ronaldinho's life from the time he was famous until now, when he was empty, was still the same: always filled with alcohol and true scandals… Brazilian geniuses rose from the slums.
But to say that Ronaldinho only knows how to "destroy" money earned from football is not true. He also knows how to do business and has the will to get rich. Before the rise of juniors like Cristiano Ronaldo and Messi, Ronaldinho was the epitome of a modern player like Beckham, who knew how to capitalize on his reputation in the areas of image promotion and business investment.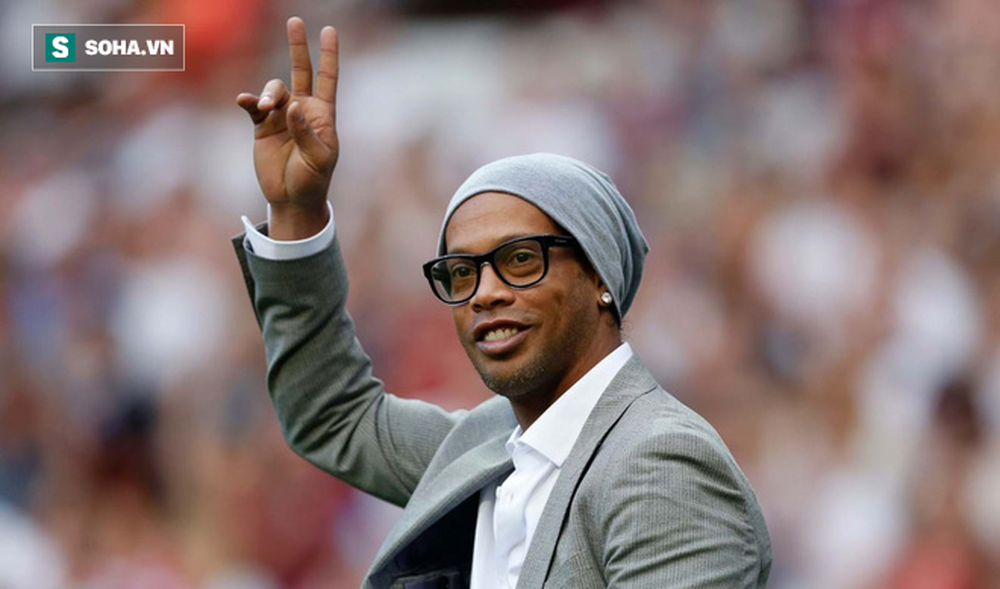 But the thing is, if Beckham is getting richer thanks to a professional management team, Ronaldinho is going downhill because his manager, Roberto de Assis Moreira, is also a sly player. So, from the business of nightclubs, real estate, restaurants, fashion… to multi-level business, every field the Ronaldinho brothers failed and… involved the law.
And when the performance on the field declines, the income decreases, and the investment in any field is investigated by the police, of course, the former World Cup champion's money mountain is $ 6.59, enough for a breakfast. was lucky. So what specifically has Ronaldinho played, made and broken since 2010 – when his form had gone downhill in Milan?
2010 – Building an entertainment complex in Milan
During his convalescence, Ronaldinho spent up to $75,000 per month renting a villa in the center of Milan. Some sources from the Italian press confirmed that this player also spent nearly half a million USD to renovate the villa with function rooms such as casino, dance floor, swimming pool…. to open all-night parties with Brazilian teammates and models.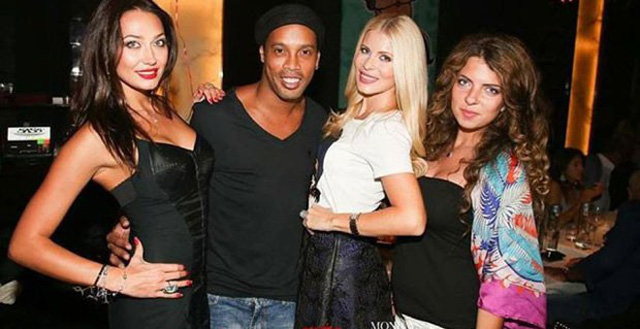 2011 – Bunga with owner Milan
The time when Ronaldinho joined Milan was also the time when the Italian press discovered the famous Bunga Bunga scandal of Milan owner, Silvio Berlusconi. Ronaldinho is also identified as regularly attending lavish parties with his boss. And one of the beauties that the former best player in the world has sex with on Bunga Bunga nights is model Sara Tommasi.
2012 – Escape from partying with beauties
Leaving Milan in 2011, Ronaldinho returned to his homeland to join Flamengo. But Samba fans often see this star's image exposed in the newspaper with more entertainment than on the pitch. At the beginning of the 2012 season, Ronaldinho escaped from Flamengo's early-season gathering hotel to party all night with the beauties, leading to an argument with coach Luxemburgo.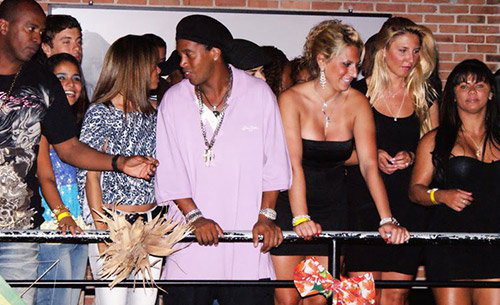 2013 – Revealing vulgar clips
In 2013, a clip recording the debauchery scene of Ronaldinho and his long legs was released on the internet. In the clip, the former Barca striker also stood in front of the camera to perform obscene acts. However, like the depraved clip that was released online in 2011, Ronaldinho explained that it was just a behind-the-scenes scene of a promotional scene.
2014 – Famous picture with 5 beauties
In 2014, Ronaldinho's private life again attracted attention with a photo he took with 5 women in an offensive position at a swimming pool. Before the wave of criticism, the brother of the Brazilian star Roberto de Assis Moreira said: " My brother is single, not gay, what's wrong with having sex with women? Bribery, corruption, crime … Brazil has a lot more to offer than Ronaldinho's private life ."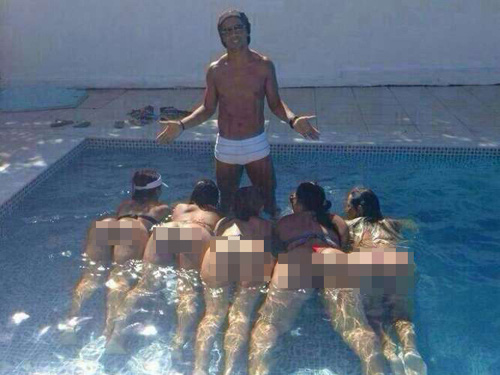 2015 – True Player
Ronaldinho's career went downhill without brakes. But the play screen of the player born in 1980 shows no sign of stopping. At the 2015 New Year's Eve party, Ronaldinho published a picture of him having fun with 13 women. Roberto de Assis Moreira did not speak, and the Spanish newspaper Marca snatched the title: " Ronaldinho – class player ".
2016 – Crime of destroying the environment
In addition to allegations of mafia and ticketing ties, in 2016, Ronalinho and his brother were also convicted by the Rio Grande do Sul prosecutor's office for destroying the environment, due to illegal construction on the lake's surface. Guaíba in Porto Alegre. This incident, Ronaldinho was fined 800,000 reals and 12% interest per year.
2017 – Divorce with 2 girlfriends
The football superstar has no shortage of pink balls around and can change his girlfriend like a shirt. However, public relations with two girlfriends can only be Ronaldinho. For a long time, Ro lived with two beauties Priscilla Coelho and Beatriz Souza, and once planned to marry both. However, at the end of 2017, Ronaldinho canceled his engagement with these two WAGs.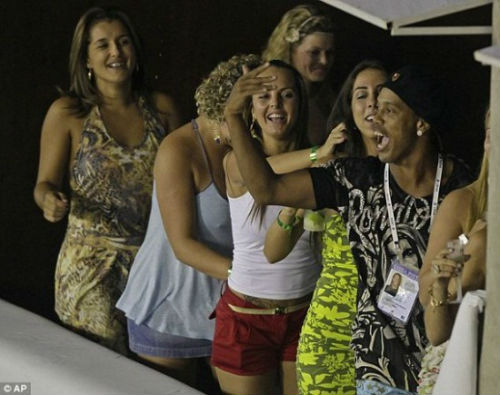 2018 – Participated in the campaign for the Presidential election
Ronaldinho is the most famous and active figure in the presidential campaign of President Jair Bolsonaro. After that, R10 continued to be entrusted with the task of being a Brand Ambassador for Brazilian tourism. Ronaldinho insists he accepted this assignment not for money.
2019 – Appears in court for violence
In July 2019, Priscilla Coelho sued Ronaldinho for abuse. According to this ex-girlfriend, during their marriage from 2012 to 2017, she was repeatedly beaten by the former Milan star "upper leg, lower forearm". However, Ronaldinho denied the allegation.
2020 – Arrested in Paraguay and will appear in court in Brazil
On March 4, 2020, Ronaldinho was arrested in Paraguay for using a fake passport. After a few hours of questioning, Ronaldinho and his brother were released, they will not be prosecuted because they are found not guilty. However, in Brazil, Ronaldinho may be about to face court for allegations related to fraud in the multi-level business project 18kRonaldinho.