With a goal against Greece, helping France win 1-0 in Euro 2024 qualifying last night, Kylian Mbappe became the most French player to score in a club and international season.
In the 55th minute of the match at the Stade de France, Mbappe took charge of the penalty after Kostas Mavropanos hit a kungfu-style kick at Antoine Griezmann in the Greek penalty area. Mbappe's initial kick was blocked by Odysseas goalkeeper Vlachodimos. However, referee Mateu Lahoz found the Greek player's early movement error, and gave Mbappe a kick back. This time, the World Cup's top scorer in 2022 did not miss.
This is Mbappe 's 54th goal from the beginning of the 2022-2023 season, enough to surpass Just Fontaine to become the most French player to score in a club and international season.
Fontaine set the old record in the 1957-1958 season. His record includes 39 goals for Reims club and 14 goals for France. He scored 13 goals at the 1958 World Cup, thereby becoming the player with the most goals in a World Cup final. On February 28, Fontaine died at the age of 89. Mbappe's record includes 41 goals for PSG and 13 goals for France.
Before and after Mbappe's table, Greece succeeded in restraining France. From the beginning, the away team played defensively. During the first half, France only finished the goal twice.
The home team's knot was only untied by the poor performance of Greek defender Mavropanos. After making a mistake leading to a penalty, in the 69th minute he continued to foul Kolo Muani and received a second yellow card.
Thanks to the advantage over people, France created more opportunities. However, they remained ungainly in the live, with Muani and Jules Kounde missing two chances that could have increased the lead.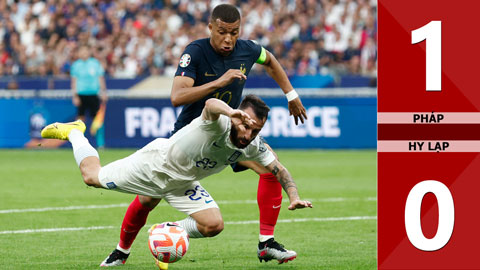 Contrary to the developments on the Greek field, the French defense had an easy day. Greece only finished three times, not enough to bring challenges to the four defenders and the host goalkeeper Maignan. Eduardo Camavinga is one of the best French players. The 20-year-old midfielder continuously made transitions to attack and helped France control the ball 59%.