Erling Haaland has become the Premier League's all-time leading scorer in his first season with Man City.
"This is really a special night and a special moment. I am really happy and proud," said Erling Haaland after scoring against West Ham to help Man City beat opponents with a score of 3 . -0 in round 34, thereby becoming the player to score the most goals in the Premier League in a season.
The previous scoring record was shared by the legendary British duo Andy Cole (season 1993/94) and Alan Shearer (season 1994/95), with 34 goals, but then the Premier League had 42
But now Erling Haaland has broken the aforementioned record with 35 goals scored in a season of only 38 games, and the Norwegian star still has five games ahead to increase his record.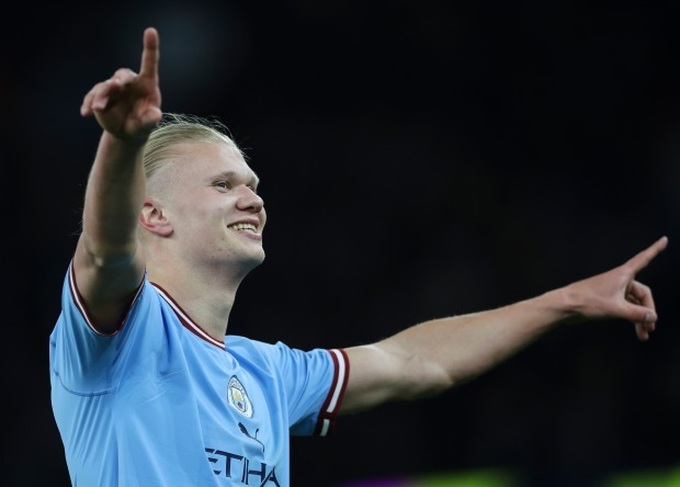 "Of course I know about it and my teammates have always tried to create opportunities for me to score. West Ham tried to defend for 90 minutes. It was an important victory for the whole team.
My first thought was to run towards the goal. Before the game, Jack Grealish talked about it before the game, he wanted to give me the pass to score the record goal. It was a perfect pass from Jack.
The goal is a really perfect kick. I didn't think much when I threw the ball over the goalkeeper's head but the opportunity came," said Erling Haaland after his 35th Premier League goal this season.
Haaland's goal against West Ham became even more impressive when he "shot" in all of the last 6 consecutive appearances.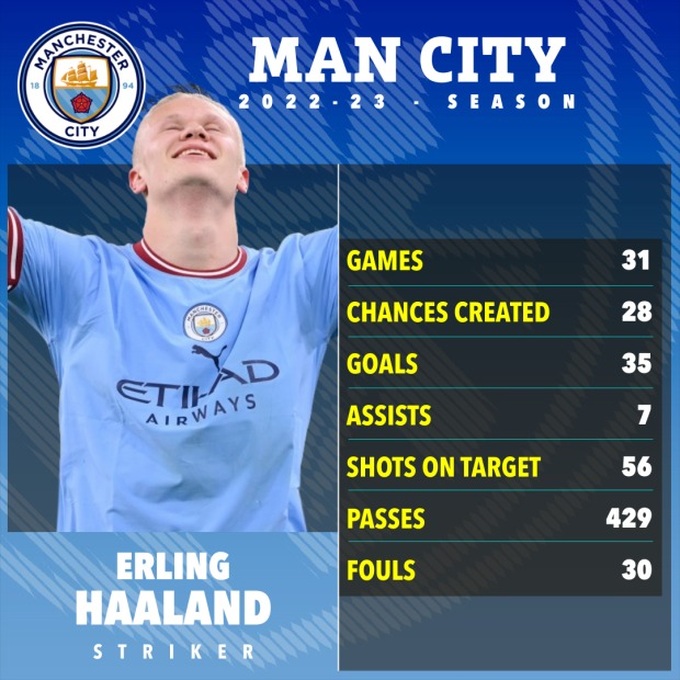 Haaland has now scored against 17 different teams this season, with only two that have yet to be hit by the Norwegian star: Brentford and Chelsea, although both are likely to face the same fate as the Norwegian star. face Man City in the remaining rounds to come.
The 22-year-old striker has proven himself to be the missing piece of Man City to help the Etihad Stadium team towards a historic treble. The Norwegian striker scored 12 goals in the Champions League, helping Man City reach the semi-finals to face Real Madrid.
In addition, Haaland also scored 3 goals in the FA Cup arena, helping Man City reach the final against neighboring Man Utd.
Former Man City star Micah Richards paid tribute to Erling Haaland on Sky Sports : "Honestly, Erling Haaland is absolutely unbelievable. Incredible scenes from an outstanding individual.
It's only been his first season and what he's done is absolutely spectacular. But he's also very humble about it. He seemed even more eager than that.
I think Haaland will score but I don't think the number of goals is that much. I guess the first season he only scored about 25 goals. But then he broke the record in just 31 appearances, it's amazing."