White tiger – white tiger – one of the "four statues" of Chinese astronomy are living creatures. However, their existence has not only come from nature since man found a way to profit in it.
Tiger is a powerful animal in nature, known as the "lord of all species", a true king of the lonely mountain place. 
In human culture, the tiger symbolizes pride, courage, and absolute strength. But if it's a white tiger – or a white tiger, the impact will be even greater. As with the Chinese, the white tiger is one of the "four statues" of astronomy, widely applied in feng shui, philosophy, and even the theory of yin and yang.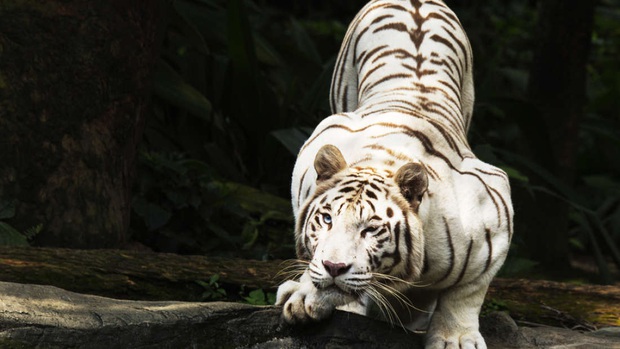 In general, it can be said that the white tiger has long been a precious legendary symbol of mankind. But perhaps, few people know that this stunningly beautiful creature is not always the child of nature, but is actually the product of a super-profitable industry directed by humans.
When "legend" becomes a breeding tool
Many people think that the white tiger is a separate branch of the tiger, evolved to survive in the snowy Siberia. But not so! The white tigers in the world today are all Bengal tigers, with the same size and ability to grow as normal Bengal tigers. Only difference is that they are white, and rare, that's all! Rare, but more precisely, it must be called extremely rare, because the probability of you encountering a white tiger in the wild is almost zero. The  last white tiger recorded in the wild is since 1951, with named Mohan, was arrested in the city of Rewa (India). It has to spend the rest of its life in an iron cage, becoming an extremely strict selective breeding tool, to help its owners make a profit.
White tiger in fantasy and reality What is strict? First, it should be known that the white color of these tigers is not due to albinism, but from a mutated gene that prevents red and yellow pigment cells from being produced. Their feathers, therefore, when growing out will be white, instead of the usual red-orange.
Needless to say, this is really a dark idea. Like statistical probability, inbreeding not only increases the likelihood that rare genes will appear, but health-threatening recessive traits will also be present. Generations of white tigers were born with a series of serious problems, from deformed hearts, cleft jaws, bent legs, blurred eyes, and even skulls that were not developed like normal tigers.
If you still do not believe, the image below is the clearest proof. It is Kenny – a white tiger suffering from mental retardation (like Down syndrome in humans), and the cause is purely due to inbreeding for too many generations. Kenny died at the age of 10, less than half the lifespan of tigers in captivity.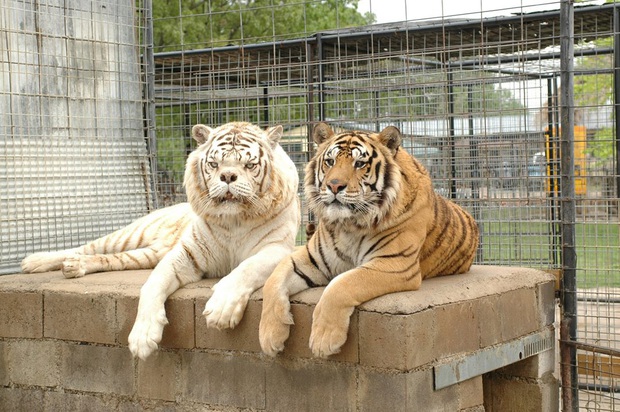 Gold mine is hard to give up
In the 1990s, millions of people around the world were surprised to see white tigers in Siegfried and Roy's magic show in Las Vegas. People are interested, but no one knows that this duo owns an entire white tiger breeding farm. They are even the pioneers when it comes to breeding unique white tigers without stripes.
Sadly, the more famous, the more white tigers become the goose that lays golden eggs for inhuman breeders.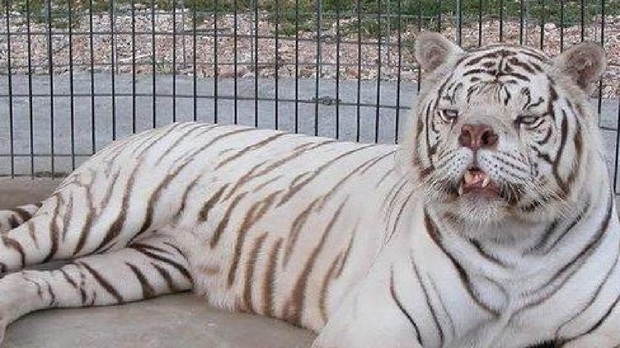 "Owners say they are exploiting the popularity of white tigers to increase revenue for zoos and circuses," said Dr Tilson, a conservationist. However, "if they say they are saving tigers, it is a blatant lie. They are not saving tigers, but turning them into a gold mine," added the sour scientist.
Fortunately, things have gradually changed now. In the past decade, the Animal Society of America has banned the breeding of white tigers and white lions in zoos. The public is also becoming more aware of the story of captive wildlife, and fortunately this is also the most influential factor. Change is, and will happen.