Despite her best efforts, in the end, the mother wildebeest still had to look at her baby being captured by the leopard.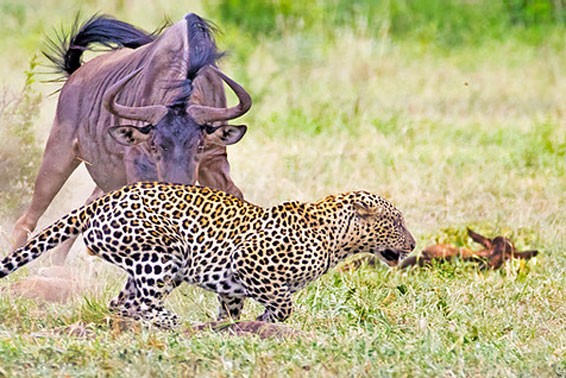 While touring Kruger National Park in South Africa, 24-year-old Nadav Ossendryver captured an extremely dramatic moment in the wildlife world. It is a scene where a mother wildebeest tries her best to protect her newborn baby from boars and leopards.
Before that, the mother wildebeest gave birth to her young in a small bush.
At first, its fellows were close by, so they also came to protect, but then they went looking for food and left the two wildebeest mother and daughter to fend for themselves.
Soon, a little trouble arose when the herd of humped pigs advanced to take the little antelope's life. Fortunately, the mother antelope was detected in time and quickly chased away the enemy.
However, it did not know that the leopard had discovered the small antelope and quickly rushed to attack .
In just a few minutes of being distracted and busy attacking the boar, the mother antelope let the leopard capture her baby.
As for the leopard, this is definitely one of the easiest prey it can catch in its entire life.